Reimbursement Update
Posted 8/1/2023
ILETSB is in the process of changing forms and no requests for reimbursements will be taken until the new forms/applications have been uploaded.
---
ILETSB FY23 Grant Now Closed
Posted 7/20/2023
The FY 23 grant period came to a close on June 30th and the Board more than tripled the amount of funds awarded from previous years. Nevertheless, several challenges arose in the final days including severe storms on June 29th which caused several electrical, cell service, and internet outages across the state. For these reasons, we have already initiated requests to allow FY 23 applicants to be considered for the FY 24 award periods. We will also seek to the begin the FY 24 application period as soon as possible and will recognize those agencies that already had applications in the system. Despite key turnovers and the steep learning curve of using a new on-line application system, the Board made tremendous strides in the last few months to assist applicants in meeting their filing requirements and deadlines. We hope to maintain this enthusiasm and momentum as we sequence the FY 24 programs and seek an opening date as soon as possible.
---
ILETSB FY23 Grant Update
Posted 6/1/2023
The Board is pleased to announce that the remainder of our FY 23 Grant Programs are now available through the State's AmpliFund system. Applications are due by June 26th and the FY 24 programs are expected to open in late summer. Please click on the links below to learn more and apply:
Camera Grant – Phase I – Officer-worn and In-car Cameras:

Agencies may submit reimbursement requests for costs related to the purchase of offer-worn and in-car cameras. Receipts of purchase will be required prior to award. Related trainings are also eligible for reimbursement.

Camera Grant: Phase II – Data Storage for Officer-worn Cameras:

Agencies may submit reimbursement requests for annual costs associated with the operation of an officer -worn camera program. Receipts or paid invoices indicating annual data storage costs are required prior to award.

NIBIN Devices:

Costs of obtaining, operating, maintaining, and training for ballistic imaging devices that assist in the collection of data for the National Integrated Ballistic Information Network are eligible for reimbursement under this grant. Receipts or proof of payment will be required prior to award.

Recruitment and Retention:

Police agencies, units of local government, public institutions of higher education, and qualified nonprofit entities may apply for grants to provide financial assistance for the purpose of hiring and retaining law enforcement officers. Detailed proposals must be submitted at the time of application and grantees will be required to submit quarterly reports as to how any awarded funds are utilized.
To begin an application, you must first register on the Illinois GATA Grantee Portal here: https://www2.illinois.gov/sites/accounts/Pages/CreateanewID.aspx
After that, you'll be able to establish an AmpliFund account here: https://il.amplifund.com/
Please contact ptb.grants@illinois.gov if you have any questions.
---
ILETSB New Address
Posted 4/27/2023
The Illinois Law Enforcement Training & Standards Board has officially moved! Please update your contact list with our new address, and send all future correspondence to:

Illinois Law Enforcement Training & Standards Board
500 S. 9th Street
Springfield, Illinois 62701
---
ILETSB Springfield Office Moving Locations!
Posted 4/4/2023
Packing has begun!  The Illinois Law Enforcement Training and Standards Board will be moving its Springfield Office to 500 S. 9th Street, Springfield, IL 62701.  Beginning April 10, 2023, office staff will be assisting in our massive relocation project.  We will strive to be responsive to your calls and requests as quickly as possible, but please understand we anticipate delays as equipment and employees' transition into our new building. Please accept our apologies for any temporary inconvenience.  We believe the new office space will allow for greater expansion to better serve the needs of the law enforcement profession and public for years to come!
---
Crisis Intervention Training 2023
Posted 3/21/2023
85 days.
Eighty-five days until we roll out three amazing keynote speakers, with special guest Tom Farley taking the stage.  From breakout sessions to networking and roundtable discussions – you DO NOT want to miss this conference! 
---
CIT 2023 - Registration now available!
Posted 3/7/2023
The 2023 Illinois Crisis Intervention Team Conference registration is NOW OPEN! The conference will take place June 14 & 15 at the Embassy Suites in East Peoria.
You don't want to miss this phenomenal conference!
The 2023 CIT Conference is full of breakout sessions, round-table sessions, superior keynote presentations, networking and much more!
View the CIT Flyer for more information.
---
LEOSA PowerPoint
Posted 3/6/2023
At the Board meeting last week, staff gave a presentation regarding the Law Enforcement Officers Safety Act (LEOSA) and how it interacts with the Board's Illinois Retired Officer Concealed Carry (IROCC) program. Please click here to learn more about these programs.
---
FY 23 Camera Grant Program
Posted 2/24/2023
The ILETSB is pleased to announce that the FY 23 Camera Grant Program Phase I is now open. Please click here to begin your application.
This year, the program is administered through the AmpliFund system. Please click here to learn more about creating an account and navigating the AmpliFund website.  For additional questions please email PTB.Grants@Illinois.gov.
Currently, this program is offering reimbursement grants for cameras purchased between July 1, 2021 and June 30, 2023. Given the complex supply chain problems that occurred recently, the Board has been authorized to extend the eligibility period an additional fiscal year.
In addition to camera purchasing costs, the ILETSB grant funds can now be used for reimbursement of an agency's related data storage costs. A separate funding opportunity for these requests will be made available in a subsequent grant opening later this Spring – Phase II. Details regarding this second opportunity will be published on the Board's website as they become available.
---
Required Network Maintenance
Posted 2/9/2023
On Friday, February, 10, 2023 PTB websites will be temporarily down from 4pm - 6pm for planned maintenance.
---
2022 Illinois Seizure and Awarded Assets Annual Report Instructions
Posted 1/20/2023
Pursuant to the "Seizure and Forfeiture Reporting Act" (5 ILCS 810/10) all agencies which receives proceeds from forfeitures subject to reporting under this Act shall file an annual report with the Illinois State Police no later than 60 days after December 31 of that year.  For more information please click here.
---
New POWER Test Chart
Posted 1/5/2023
Throughout 2023, a special advisory group will be exploring issues related to the POWER test. This group is expected to conduct research, consult with experts, gather stakeholder input, and prepare recommendations for changes. During this process, the Board will seek to gather as much data as possible from the current academy classes to demonstrate recruit performance at the beginning and end of each session. As an accommodation to assist in the measurement of performance improvement, the longstanding metrics have been adjusted. The new standards can be found here.
---
Special Committee for Executive Nomination Update
Posted 11/15/2022
Sheriff Idleburg stepped down from the nominating committee to avoid the appearance of any possible conflicts of interest. Chairman Davis has appointed Attorney General Kwame Raoul (John Carroll, designee) to take the place of Sheriff John Idleburg on the Special Committee for Executive Nominations. The Committee will reconvene this Friday, November 18, 2022 at 9:00 a.m. to discuss nominations and next steps.
---
Special Committee for Executive Nomination
Posted 11/2/2022
Chairman Davis has named Director Brendan Kelly, Sheriff John Idleberg, and Sheriff Tom Dart (Marlon Parks, designee) to the 2022 Special Committee for Executive Nominations. This committee will meet on Friday, November 4th at 9:00 a.m. at the Board's Springfield Office.  Any questions or comments may be directed to ptb.comments@illinois.gov.
---
Camera Grant Update
Posted 9/30/2022
For the FY 23 Camera Grant Program, the Board will be using the State's new AmpliFund system for completing on-line application process. We have had several meetings with the Grant Accountability and Transparency Unit to convert the previous application and forms to the new system. We anticipate having this portal prepared and opened around December 1, 2022. Cameras contracted between July 1, 2021 and June 30, 2022 but received and paid after July 1, 2022 will be eligible for this year's program along with cameras purchased within the State's fiscal year 2023.
---
SAFE-T Act Updates to ILETSB Forms
Posted 9/12/2022
In accordance with the revisions of the SAFE-T Act, the Board is creating several new forms, and modifying existing forms, to be used when reporting officer misconduct. While additional revisions are forthcoming, the following forms are now available on the Board's website:
Professional Conduct Report (Form R) – This document, known as a "Form R," allows police agencies to report officer misconduct to the Board when it results in termination, a suspension of at least 10 days, or compels a resignation while under investigation. Details regarding when this revised form is needed can be found on the form itself. Any officer reported to this database may respond on a separate from, which will become part of the file maintained by the Board. Agencies seeking to report misconduct that does not rise to the level required to be reported under Section 9.3 of the Police Training Act, may use Form Q, described below.
Officer Complaint (Form Q) – Under Section 6.3 of the Police Training Act, the Board will now accept complaints made against officers from members of the public, state's attorneys, and police agencies. When this "Form Q" is received, it will be reviewed by Board staff and assigned for investigation or referral.
Notice of Arrest (Form O) – The Police Training Act requires officers and their employing agencies to notify the Board whenever an officer is arrested. This "Form O" will make it easier for both to do so while including the requisite information for Board processing.
All of these forms can be found be found under the "General Forms" section of our Forms and Information page.
---
Board Adopts Ten Shared Principles
Posted 6/9/2022
At the June 1st Board Meeting, the Illinois Law Enforcement Training and Standards Board officially signed on to the Ten Shared Principles of the NAACP and the Illinois Chiefs Association. This commitment to treat all with dignity and respect while rejecting all forms of discrimination was unanimously approved and signed by all in a special ceremony in Tinley Park. While hundreds of agencies have already adopted these shared principles, ILETSB is one of the first state agencies to do so. Chairman Davis encouraged the academies and MTUs to adopt the principles as well as demonstrate the law enforcement community's commitment through all forms of training.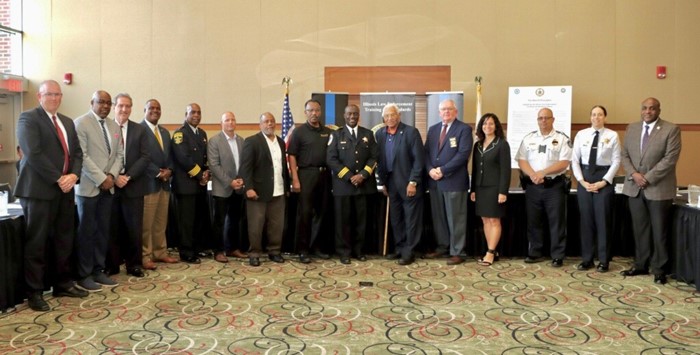 Photo Credit: Attorney General's Office
NOW BE IT THEREFORE RESOLVED that the Illinois Law Enforcement Training and Standards Board and its individual members, meeting in Tinley Park, Illinois, adopt these same Ten Shared Principles as their own, and thereby add their names to the historic agreement between the Illinois NAACP and the ILACP.  These are the Ten Shared Principles:
We value the life of every person and consider life to be the highest value.
All persons should be treated with

 

dignity and respect

. This is another foundational value.
We

 

reject discrimination

 

toward any person that is based on race, ethnicity, religion, color, nationality, immigrant status, sexual orientation, gender, disability, or familial status.
We endorse the six pillars in the report of the President's Task Force on 21st

 

Century Policing. The first pillar is to

 

build and rebuild trust

 

through procedural justice, transparency, accountability, and honest recognition of past and present obstacles.
We endorse the four pillars of

 

procedural justice

, which are fairness, voice (i.e., an opportunity for citizens and police to believe they are heard), transparency, and impartiality.
We endorse the values inherent in

 

community policing

, which includes community partnerships involving law enforcement, engagement of police officers with residents outside of interaction specific to enforcement of laws, and problem-solving that is collaborative, not one-sided.
We believe that developing strong ongoing

 

relationships

 

between law enforcement and communities of color at the leadership level and street level will be the keys to diminishing and eliminating racial tension.
We believe that law enforcement and community leaders have a mutual responsibility to encourage all citizens to gain a better understanding and knowledge of the law to assist them in their interactions with law enforcement officers.
We support

 

diversity

 

in police departments and in the law enforcement profession. Law enforcement and communities have a mutual responsibility and should work together to make a concerted effort to recruit diverse police departments.
We believe de-escalation training should be required to ensure the safety of community members and officers. We endorse using de-escalation tactics to reduce the potential for confrontations that endanger law enforcement officers and community members; and the principle that human life should be taken only as a last resort.
---
FY 22 ILETSB Camera Grant Program Now Available
Posted 5/23/2022
The FY 22 ILETSB Camera Grant program is now open. Click here for more information.
---
Minimum In-Service Training Requirements Released
Posted 3/15/2022
Interim Executive Director Keith Calloway announces the 'minimum in-service training standards' required by the Illinois Police Training Act (50 ILCS 705/10.6). He states, "Establishing these guidelines will allow agencies and officers throughout the state to not only better prepare their training schedules in both the long-term and short-term, but also assist and allow our profession to continue its evolution in striving to provide the highest level of professionalism with an exemplary standard of training."  The SAFE-T Act requires the board to adopt rules and minimum standards for in-service training requirements as set forth within the Act.  Please click here to review these standards.  Comments may be directed to ptb.training@illinois.gov with any questions.
---
Mental Health Screening Standards
Posted 9/28/2021
The SAFE-T Act requires the Board to establish statewide standards for minimum standards regarding regular mental health screenings for probationary and permanent police officers. The Board recently passed a preliminary version of these standards for public review before revisiting these at the next board meeting. Please click here to review these standards. Comments may be directed to ptb.comments@illinois.gov
---
School Resource Officer In-Service Training Courses
Posted 8/19/2021
SROs who are already certified by the Board must attend update courses prior to submitting any recertification requests. Please click here to learn more about the available courses that meet these requirements.
---
SAFE-T Act Update
Posted 7/1/2021
On June 30th, the Board presented updates on the changes brought forth by the SAFE-T Act and HB 3443 SA 5. Below is the slideshow with content from the presentation. Additional information and media will be shared through our site as it becomes available.
---
SAFE-T Act and HB 3443 SA 5 ("Trailer Bill")
Posted 6/29/2021
The Board will be hosting a webinar on the July 1st changes of the SAFE-T Act on Wednesday at 1:30 pm. For more information please click here.
---
Message from Chairman Davis:
Posted 6/14/2021
The Board has voted to appoint Keith Calloway to serve as interim Executive Director of ILETSB. Please direct all matters pertaining to the Executive Director to him until further notice.
- Chairman Mitchell Davis, III
---
June 2021 Board Meetings
Posted 6/7/2021
As the state begins lifting certain COVID-19 restrictions, we are happy to announce that special arrangements have been made to conduct our June Board meetings in person, with a remote access option.
These meetings will take place on June 9th and 10th in Springfield at the Crowne Plaza Hotel and Conference Center. Limited public seating will be available in accordance with state and local guidelines. Details regarding remote access will be provided when available.
Special Meeting of the Illinois Law Enforcement Training and Standards Board
June 9, 2021 at 12:00 PM
Curriculum & School Standards Meeting:
June 9, 2021 at 1:00 PM
Joint Finance & Legislative Committees and Executive Committee Meeting:
June 9, 2021 at 2:00 PM
Full Quarterly Board Meeting:
June 10, 2021 at 9:00 AM
---
CIT 2021 - Registration now available!
Posted 4/30/2021
Please view the CIT Flyer for more information.
---
CIT 2021 - Save the Date
Posted 4/28/2021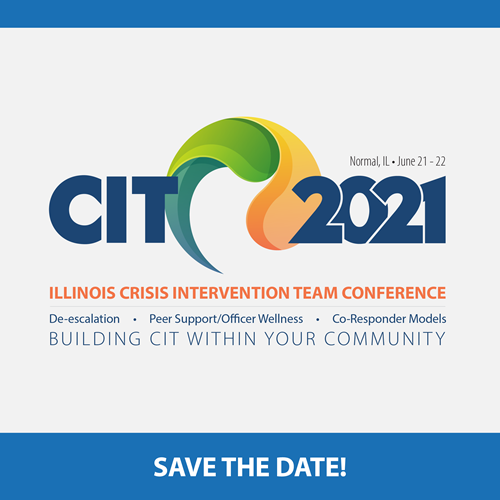 ---
Police Reform Training Update
Posted 4/16/2021
4/16/2021 POLICE REFORM TRAINING UPDATE Under the reforms of HB 3653 (PA 101-652) there are several additions to the general in-service mandates required of all experienced officers. With these, we expect the new list of mandates to reflect the list below (new items are underlined).
At this time, staff is reviewing the master list of available MTU courses to determine if any existing classes meet the new mandates, and if none qualify, the Board will create guidelines for new courses to be offered at the MTU level. These will incorporate the changes to the use of force standards and new training specifications. As before, all MTU and Executive Institute courses will be tracked for each participating officer and these records will be available to demonstrate completion and compliance. Administrative Rules for these provisions are currently being drafted that will provide clear guidance as to how courses will be credited and tracked.
Additionally, the Board is working with the Executive Institute to present additional viewings of special trainings related specifically to the reforms of the SAFE-T Act to help chiefs, sheriffs, and administrators navigate the changes of this legislation. With these measures, we believe that the structure will be in place to present officers with ample opportunities to meet the initial annual and tri-annual deadlines of July 1, 2022 and July 1, 2024 respectively.
One issue to be addressed is the new requirement that certain topics must be presented for a specific length of time. For courses that address these topics, the Board is considering stand alone, whole day, courses that will complete the requirement, or alternatively, breaking down these topics into other courses that would require completion of several courses before the requirement is met. At this time, we are scheduling a series of meetings with the MTU directors, department heads, and other stakeholders. We intend to host a Special Subject Matter Meeting of the Curriculum Committee to discuss the progress made in these areas in the upcoming weeks.
Please check back to this website frequently as we anticipate other updates to be shared here before our June Quarterly Board meetings. For an overview of the SAFE-T Act and the Board's analysis of specific sections addressing implementation presented in March of 2021, click here.
---
Minimum in-service training requirements, which a police officer must satisfactorily complete at least annually. Those requirements shall include courses addressing:
law updates
emergency medical response
crisis intervention
officer wellness and mental health
Mandatory training to be completed every 3 years. The training shall consist of at least 30 hours of training, at least 12 hours of hands-on, scenario-based role-playing, every 3 years and shall include:
At least 6 hours of instruction on use of force techniques, including the use of de-escalation techniques to prevent or reduce the need for force whenever safe and feasible.
At least 6 hours of training focused on high-risk traffic stops.
Specific training on the law concerning stops, searches, and the use of force under the Fourth Amendment to the United States Constitution.
Specific training on officer safety techniques, including cover, concealment, and time.
Cultural competency, including implicit bias and racial and ethnic sensitivity.
Constitutional and proper use of law enforcement authority.
Procedural justice.
Civil rights.
Human rights.
Trauma informed response to sexual assault.
Reporting child abuse and neglect.
The psychology of domestic violence (change from 5 years to 3 years for consistency).
---
FY 21 - ILETSB Camera Grant Program
Posted 3/10/2021
The Board is happy to announce that the next round of camera grant awards is open for application.  For more details please go to our Camera Grant Information page.
---
PA 101-652 PowerPoint
Posted 3/8/2021
You may download a copy of the PA 101-652 PowerPoint that was presented at the March 4th Board Meeting here.
---
Employment Opportunities
Posted 3/4/2021
If you are interested in seeking employment with the Illinois Law Enforcement Training and Standards Board, you are encouraged to visit the State of Illinois Jobs website at: https://illinois.jobs2web.com/. This website gives a great deal of information useful to prospective employees of the State of Illinois. You can search for all State of Illinois jobs by location, job title, agency, or by using the interactive map.
To go directly to ILETSB's job openings, please click here.
Each individual job posting gives the job qualifications and duties, pay scales, application instructions, etc.  Please be sure to read each job posting thoroughly, as the application procedures vary depending upon the job title.
IMPORTANT NOTE: You must apply for each job posting separately, following the application instructions for that specific job. We cannot simply keep your resume on file and alert you of any upcoming job postings for which you qualify. You will not be considered for any position for which you do not directly apply.
Thank you for your interest in seeking employment with our agency.
Equal Employment Opportunity Statement:
ILETSB is a nonpartisan, independent State Board. Political affiliation and views will not be considered in hiring, assignment of work, evaluations, or discipline (including termination).
ILETSB seeks a diverse workforce and posts vacancies in alternative locations to encourage diversity in the applicant pool.
ILETSB is committed to the principles of equal employment opportunity/affirmative action in all areas of its employment process, including but not limited to recruitment, hiring, promotion, discipline, discharge, and the awarding of benefits for all qualified applicants. Therefore, race, color, religion, gender, sexual orientation, marital status, age, national origin, ancestry, physical or mental disability, veteran's status (as defined in the Illinois Human Rights Act), citizenship status (consistent with Title 8, U.S. Code, Section 1324A), arrest record, or any other non-merit factor, except bona fide occupational qualification (BFOQ), will be excluded from any employment decision or service provided by ILETSB.
In addition, it is the policy of ILETSB that its employees and applicants for employment will be free from any harassment based on race, color, religion, gender, sexual orientation, marital status, national origin, ancestry, physical or mental disability, or age.
ILETSB is an Equal Opportunity Employer and provides reasonable accommodation to applicants and employees with disabilities.
---
HB 3653
Posted 1/14/2021
Yesterday, the General Assembly passed HB 3653 – a comprehensive reform addressing several areas of criminal justice and policing. While this bill changes many aspects of law enforcement, our focus has been on how it affects the Police Training Act, which directly affects the Board.
Most significantly, it establishes a process that allows the Board to seek decertification for misconduct that does not rise to the felony conviction level. Under this bill, the Board will receive complaints from agencies, state's attorneys, and the public addressing instances of criminal conduct, perjury, evidence tampering and other unprofessional conduct. If, after investigation, these complaints are founded, the Board will conduct a hearing and go before a newly created Certification Review Panel to determine if decertification is warranted.
As of 2022, certificates will be divided into active, inactive, and decertified status. Officers who are no longer employed as police officers will have to go through a special process to reactivate their certificate upon being rehired. Officers will also have to self-report their compliance with all training mandates every three years. Failure to report may result in inactivation.
This measure also provides for greater transparency by requiring the Board to maintain a public portal on our website to search officer agency affiliation and certification status. Chiefs and Sheriffs will still have access to the Professional Misconduct Database, but this too will be streamlined and made more accessible, as hiring entities must review these entries before initiating the employment of a new officer.
New mandates related to use of force, officer wellness courses, and crisis intervention response were added to the basic and in-service training requirements as well. Staff is already working on ways to implement these changes to be ready for the January 1, 2022, effective date. While this bill requires "crisis intervention training" at the basic academy and as part of the annual in-service mandate, we believe these can be covered by intro and overview courses, leaving the Crisis Intervention Team (CIT) course as a volunteer, specialized certification.
The bill also requires all agencies to begin using body cameras over the course of the next five years. We anticipate that this will increase demand for our existing camera grant program and have asked that funding for this program be increased. Similarly, we have asked for our appropriations to be increased and funding secured to accommodate the increased trainings and duties associated with processing certification verifications, investigating statewide complaints, and seeking the decertification for reported misconduct. We trust that in the upcoming months, discussions on this topic will be fruitful.
While we understand that there are several items of concern in the underlying legislation, we remain focused on the Board's role in ensuring that Illinois' law enforcement community has the training and resources to better serve the people of this State.
---
SRO – IMPORTANT UPDATES
Posted 12/16/2020
-          On-Line Juvenile Update: In the course of reviewing program and waiver applications, we noted that several officers would be eligible for the Board's SRO waiver if they simply had an update course in Juvenile Law. For your information, an online Juvenile Law update course is now available through the Executive Institute. To learn more or register, please click here.
-          January 1, 2021 Deadline: Section 10-20.68 of the School Code requires any officer who has been primarily assigned to a school or school district under an agreement with a local law enforcement agency to obtain a special SRO certificate from the Board beginning January 1, 2021. Unfortunately, the Board cannot issue any extensions of this deadline – doing so would require a statutory change and there is currently no opportunity for the General Assembly to address this issue in the remainder of this year. We have put or contacts on notice that an extension may be requested into the new year. In the meantime, we are working with trainers and facilities to conduct the needed coursework as soon as possible within the COVID restrictions. As the underlying requirement rests within the School Code, any concerns or comments from an employing agency about this deadline should be directed to the local school district.
---
School Resource Officer Forms & Important Information
Posted 10/2/2020
To learn about the School Resource Officer (SRO) program please visit the new SRO page located under the Training tab or by clicking here.
---
Drug Detection Canine Compliance Program Update
Posted 9/22/2020
Information about the Drug Detection Canine Compliance Program Update can be found under the Training tab or clicking here.  If you have any questions or comments please email PTB.K9@Illinois.gov.
---
UPDATE: June Board Meetings
Posted 6/4/2020
We are happy to announce that the City of Bloomington has graciously allowed ILETSB to use its municipal board room to host our upcoming meetings. Due to the distancing measures still in place, this meeting will be conducted via WebEx and all board members will be a sent an invite link in the upcoming days. A phone number will be made available for members of the public wishing to listen to the proceedings. At this time, we plan to have the Curriculum meeting at 9am on Thursday, June 11th and the Full Quarterly Meeting at 10am that same day.  Phone lines will open 30 minutes in advance for each meeting.  Anyone seeking to make a public comment is asked to do so in writing to this address: ptb.comments@illinois.gov. Any comments received before the meeting will be reviewed by the Chairman and reflected in the record.
While the Open Meetings Act remains in place during this period, the provision requiring a physical quorum has been temporarily suspended. With that, we will proceed as normal and follow all rules and protocols pertinent to the business of the Board. However, we ask that Board members and the public take advantage of the distancing accommodation and participate remotely. Board staff will be available to assist anyone needing assistance in this area and we ask that any technical questions be directed to: PTB.EDI@illinois.gov
---
COVID-19 Updates
Posted 4/27/2020
The restrictions in place in response to the COVID-19 pandemic have been particularly challenging for the State's law enforcement community. Although many of the basic academies were quick to adapt and implemented methods of on-line instruction, most in-person coursework, including those scheduled at the MTUs, was halted. Nevertheless, ILETSB is determined to keep the safety of all officers as a top priority as we explore options to continue providing training opportunities during this period.
Earlier this month, the Executive Committee approved special policies for conducting trainings, exams, and requalifications in limited numbers that comply with Governor Pritzker's Executive Orders. In accordance with these policies, some academies have been able to return recruits for special trainings that meet the specific certification requirements related to firearms. Canine and firearm requalifications (including IROCC) are also beginning to be rescheduled. Board staff is currently reviewing several other proposals to allow other classes to resume or complete as much coursework as possible. We will continue to work with state and local health organizations to determine the safest methods for conducting trainings at this time and hope to announce more offerings soon.
During this period, Board staff is working remotely but still making every effort to complete the Board's operational tasks and respond promptly as issues arise. Should you have any questions, please feel free to reach us at PTB.Comments@illinois.gov.
---
Helpful Links and Supportive Resources
Posted 4/15/2020
In your work as a law enforcement officer, you run into people under stress on each shift.  The current situation raises the anxiety base level for everyone, including yourself.
As such, the ILETSB is sharing information about resources for you to share and use as needed.
Below are some online and tele-resources both very specific and more general for you to share with the public as a source for support, information and access to help.
We appreciate all you do and continue to do for our communities.  Please continue your practices to stay healthy, safe and mentally well.
Should you have any recommendations of useful resources to add for the public or for officers, please contact Jennifer Wooldridge at jennifer.wooldridge@illinois.gov.
Helpful Links and Supportive Resources
---
Stay-at-Home Executive Order
Posted 3/23/2020
Due to the Stay-at-Home order issued by Governor Pritzker, all of the Board's administrative staff will be working remote from March 21, 2020 through April 7, 2020.  During this period, our main phone lines will be unmonitored, but staff will be regularly checking emails.  You can find the email addresses of our staff on the Contact Us page of our website.
In order to receive the quickest response time, we also ask that FOIAs be emailed to PTB.FOIA@Illinois.gov during this time.  Responses to FOIAs sent via postal mail or FAX may be delayed until the Stay-at-Home order is over.
---
COVID-19
Posted 3/14/2020
In response to the COVID-19 pandemic, The State of Illinois is taking great steps to comply with the preventative measures requested by health departments at all levels. For specific information about steps you can take to prevent the spread of this illness, please refer to the Illinois Department of Public Heath's webpage. For specific information relevant to law enforcement personnel, please refer to these guidelines from the CDC.
Recognizing that social distancing is key to this effort, the Board has been in contact with all approved training academies and offered assistance if they choose to cease operations during this period. We are in the process of identifying all officers affected by such closures and are prepared to offer training period extensions if necessary. Also, some MTU classes may be cancelled – please check with the local MTU Coordinator if you have questions about the status of a specific class.
During this period, please be advised that the Board's administrative staff is complying with State recommendations and completing as much work as possible outside of our traditional office setting. This may result in longer periods for responding to requests for information and documents. Also, it is asked that any communications be sent via email if possible. If you do not have a direct contact, please email PTB.Comments@illinois.gov and your message will be directed to the appropriate staff member.  
Together, these accommodations will help reduce the spread of illness and ensure that the Illinois law enforcement community has every available resource to continue providing services to the people it serves.
---
FY 20 – ILETSB Camera Grant Program
Posted 3/5/2020
The Board is happy to announce that next round of camera grant awards is being prepared. Under this program, funds will be available to reimburse law enforcement agencies for officer-worn and in-car cameras purchased after July 1, 2019 and put into use before June 30, 2020. CAMERAS PURCHASED PRIOR TO JULY 1, 2019 ARE NOT ELIGIBLE FOR REIMBURSEMENT. Like the previous program, all agencies must be GATA approved and be compliant will all statutory and ILETSB obligations and training mandates upon application and prior to being awarded any funds.  Only itemized cameras (not storage or optional hardware) and associated training are eligible for reimbursement.
Initial information for this round will be posted to the Board's website beginning in early March of 2020 and awards are expected to be announced very soon after. Applications will only be accepted until 5:00 pm on Friday May 29, 2020 and no extensions will be available.  All equipment purchases must be made prior to the close of the State's fiscal year on June 30, 2020 and proof of purchase and installation must be made prior to July 31, 2020.
Agencies intending to apply for these grant funds must be prepared to submit the following:
Receipts of purchase and payment dated between 7/01/19 and 6/30/20.
The make, model and serial number for all cameras requested for reimbursement.
Receipts for implementation (body-worn) and or installation (in-car) prior to 6/30/20.
Demographic data as requested by the Board.
Proof of pre-qualification as required under GATA (Note: This may take several weeks if not already approved.)

Please note ILETSB staff cannot approve or fix GATA issues for your agency.
CAMERAS IDENTIFIED IN A PREVIOUS ILETSB AWARD ARE NOT ELIGIBLE
FOR THIS ROUND OF REIMBURSEMENTS. 
LEASE AND PAYMENT PLANS ARE NOT ELIGIBLE FOR THIS REIMBURSEMENT.
---
ILETSB – School Resource Officer: Preliminary Program Policies and Curriculum
Posted 2/25/2020
In accordance with the requirements of PA 100-984, the Board approved a preliminary draft for our School Resource Officer (SRO) program policies and curriculum at the last Board meeting. This allows for further review and feedback to be gathered before courses must be conducted and officers seek to complete training before the January 1, 2021 deadline.
This document was prepared in coordination with the Shriver Center on Poverty Law and is a culmination of feedback from stakeholders and interested parties, including current SROs, chiefs and sheriffs, school administrators, community advocates, parent groups, trainers, and Board staff. As the notes and feedback of those meetings were compiled, it became clear that the general consensus was for SROs to be trained in youth communication, recognition of hardships and disabilities, threat recognition and response, and the intricacies of Illinois' juvenile protection statutes.
With this, Board staff conducted research as to the similar requirements in other states and learned of national trends and best practices in particular subject areas. We worked with the ILETSB Executive Institute on threat response practices, discussed current course structures with local and national trainers, and got feedback from officer organizations most effected by the original legislation. We also reached out to the City of Chicago and other jurisdictions that have already taken significant steps to increase SRO training and we developed methods to accommodate and recognize their preliminary accomplishments as we moved forward creating new requirements.
Ultimately, we determined that officers who had previously attended a recognized School Resource Officer Course may be eligible for a waiver if they also attended a juvenile law course and an active threat response course. These elements became the building blocks of the course and program we developed. Under this structure, officers have two options for attaining an SRO certificate, attend our course, or attend other Board-certified courses in the 3 topic areas.
Under the proposed program, the Board certificate for an SRO will be valid for two years and may be renewed. However, the idea of a continuing education requirement was also suggested by the legislative sponsors and stakeholders. With that, we will require each SRO to complete at least one update course in the three topic areas before a renewal will be granted.
Finally, we ask that officers have at least two years of experience after their initial date of hire before serving as an SRO and come to the position with an interest for serving the youth of the community. We believe that the course presented here represents the basic standard topics and points of instruction that we would require from any provider seeking to conduct this course throughout the state and affords instructors a great deal of flexibility to embellish and expand areas if desired.
If you wish to submit feedback regarding this program and curriculum you may do so during the month of March by emailing your comments to this address: ptb.comments@illinois.gov
Click here to download the SRO Curriculum and Policies.
---
New CIT Training Resource Available
Posted 10/18/2019
The ILETSB is proud to announce the creation of a new CIT training resource. Welcome to the CIT Illinois - Illinois Law Enforcement Training & Standards Board's Facebook page for everything CIT.
Click here to follow us on Facebook: https://www.facebook.com/CITILETSB/
---
Update on the 560 Hour Part Time Basic Law Enforcement Training
Posted 5/7/2019
There are some new requirements introduced in order to professionalize and improve the 560 hour part-time academy.  You will need to contact your Mobile Team Unit (MTU) Coordinator for details.  Please keep in mind that due to monetary and personnel limitations, not all MTUs will be able to offer the part-time training program.  Agencies interested in enrolling a recruit in the part-time academy must perform the following tasks:
File a FORM E, Notice of Appointment form with the Board office, which shows the initial date of active employment for the recruit and enables ILETSB to assign the officer a Police Training Board Identification Number (PTBID), which is required for all paperwork.
Contact the Mobile Team Unit (MTU) offering the Part-Time Basic Law Enforcement Training Academy to request an enrollment packet for your recruit.
MTUs offering the PT Course will be posted on the individual MTU website
Once you have completed the enrollment packet and returned it to the MTU by the part-time academy enrollment deadline, you will need to request a POWER test date.  Be advised that within 6 months from the recruit's initial date of hire, they must successfully pass the POWER test to become enrolled in the part-time academy.  Failure to meet this first hurdle of successfully passing the POWER test by the 6 month deadline and/or the academy enrollment deadline will automatically prevent the recruit from being enrolled in the course.
(Note: Doctors release forms are good for 60 days only). Many MTUs have pre-set POWER test dates to coincide with the start date of their part-time academy.  Those dates may be found posted on their individual websites.
In addition, the 40-hour MFT requirement must be met within 6 months from the initial date of employment. (50 ILCS 710/2). Contact your MTU for a schedule of course offerings
With the increase in curriculum hours, compounded by the fact that minimum and maximum student enrollment requirements will be established, space in some classes may be limited so the Board recommends that Chiefs and Sheriffs coordinate with their respective MTU Directors for start dates.  This will ensure time requirements are satisfied.
Feel free to contact Deputy Director Cheryllynn Williams if you have questions.  Please watch for additional information in the near future.
---
Lead Homicide Investigator (LHI) Approved (or tentatively approved) Classes, Certification and Recertification Process.
Posted 12/12/2018
Effective 01-01-2012, under 50 ILCS 705/10.11, only law enforcement officers who successfully complete the Board certified 40-hour Lead Homicide Investigator training program may be assigned as lead investigators in homicide investigations. 
All Lead Homicide Investigators (LHIs) certified by the Training Board are required to obtain 32 hours of approved LHI in-service training in a 4 year period from the date of their certification.
The Training Board has approved many in-service classes for LHI certificate renewal.  Agencies are responsible for ensuring LHIs attend approved classes. Below is the current list of in-service classes approved for Lead Homicide Investigator re-certification.  However, please check with your local MTU and/or the Executive Institute to get the most up-to-date list of LHI approved classes being offered in your region, as additional classes are being added on a regular basis. List of approved (or tentatively approved) LHI classes for re-certification.
It is suggested that agencies submit their Lead Homicide Investigator's re-certification paperwork no sooner than 3 months and no later than 6 months prior to the end of the 4th year.
A copy of the LHI recertification form can be found by clicking here - Recertification .
---
Conor's Law - ILETSB Model Policy Available
Posted 6/7/2018
Conor's Law - ILETSB Model Policy on the Response and Release of Individuals Under the Influence of Drugs or Alcohol: Last year, PA 100-537 was passed requiring the Board to create a model policy to train law enforcement officers on how to respond to individuals who are under the influence of alcohol or drugs at the time of an arrest - with special considerations for those under age 21. After researching the general issues, discussions with stakeholders, and an invitation for public comment, we are pleased to share this model policy with the law enforcement community. While law enforcement agencies are not mandated to make any changes under this law, we believe that this model policy stands as an example of how to balance several concerns while maintaining the safety interests of the detainee. This document will be permanently available in the new section of the Board's website for "Model Policies" under the "Resources" tab.
---
Canines and Cannabis training
Posted 5/16/2018
There has been a growing concern among law enforcement over the possible impact the legalization of cannabis would have on narcotics detection dogs.  Although we recognize the legalization of cannabis could create a number of issues for those narcotics detection dogs in service at the time if it is legalized, we must continue to follow current Illinois law.  The current Illinois law requires "all police dogs used by State and local law enforcement agencies for drug enforcement purposes pursuant to the Cannabis Control Act, the Illinois Controlled Substances Act, and the Methamphetamine Control and Community Protection Act shall be trained by programs that meet the minimum certification requirements set by the Board."  To meet the "minimum certification requirements", all narcotics detection dogs must be trained to detect marijuana, cocaine, heroin, and methamphetamine.
---
Changes to Instructor Approval Application Process (Electronic Submissions)
Posted 2/20/2018
Please note: The following changes to the instructor approval application process applies only to instructors teaching in the full-time or part-time academy. The process for instructor approval applications for in-service training remains the same.
Effective March 1, 2018, ILETSB will be accepting electronically submitted Approved Academy Instructor Applications as the primary method of submission. This new protocol will reduce staff time, allow for permanent records to be shared by the entire organization, and most importantly, ensure retention of permanent records. The process for receiving, retaining, and responding to those electronic applications are as follows:
Academy Director or Mobile Training Unit Coordinator locates the electronic Instructor Application on the ILETSB website under the "Resources" tab on the splash page, selecting "Forms & Information" from the drop down box, and scrolling to the "Applications for Instructors" section of the page, until they find "Application for Instructor - Form C." Instructions for the application are found on the first page of the form, and at the top of each section.
Submit the form and any scanned supporting documentation via email to PTB.Applications@illinois.gov. Applications may only be submitted by the MTU or the Academy, not by 3rd parties such as private companies or individuals.
If any supporting material is lacking, or additional clarification is required, those questions will be directed via email to the email address from which the original application was submitted. This will ensure ILETSB will have a permanent record of a single communication string.
Approval letters will be provided electronically to the email address provided by the application submitter.
---
160-Hour Basic Court Security Officer Course Temporarily Suspended
Posted 11/7/2017
Please be advised that the 160-hour Basic Court Security Officer course has been suspended for a short time.
This will allow time for the review and update of the instructional blocks affected by the new 560 PTBLE curriculum.
Departments with court security officers in need of training will be given the option of sending their officers through the 200-hour Basic Correctional Officer training, in order to meet the 12 month training deadline.
Please check back for an update on the website in late 2019, announcing when the BCSO course has been updated and will again be available.
---
Body Camera Reports
Posted 4/21/2017
Pursuant to 50 ILCS 706/10-25 each law enforcement agency that utilizes body worn cameras must provide a report to the Board by May 1 of each year indicating the number of cameras in use, the number of officers who have used body worn cameras, technical issues encountered with the use of such cameras and the review process used by supervisors. For each instance in which a body camera was used in a prosecution, the agency must indicate the date, time, location, offense and charging date. In an effort to simplify the collection of this data, ILETSB requests that this data be provided on the attached chart. Completed reports for the 2019 calendar year, including the accompanying chart, can be emailed to Jennifer Wooldridge at jennifer.wooldridge@illinois.gov
---
Information on Board Approved Guidelines for In-Service Training related to special interest legislation
Posted 10/26/2016
In September 2016 the Board adopted the following policy:
When determining minimum in-service training requirements that a police officer must satisfactorily complete, only Board Certified courses that comply with Board approved guidelines will be considered.
Board Policy Adopted September 22, 2016
---
Pursuant to Board Policy adopted in December 2013 all in-service courses shall be delivered and certified through the Mobile Team system unless the course and/or venue is approved by the Board on an individual basis.  The Mobile Teams shall have the option of providing all in-service courses. If the Mobile Team declines the delivery of any course within its region for reasons other than duplication, the Board may determine whether the course is otherwise certifiable and/or reimbursable based upon the best interests of law enforcement. Board certificates may be provided to individuals that the Mobile Training unit can identify as having successfully completed a Board-certified course.
Certification shall be reviewed by the Board on an annual basis.
Board Policy Adopted December 12, 2013
---
The Board Approved guidelines can be found here: https://www.ptb.illinois.gov/media/1296/iletsb-in-service-mandated-training-guidelines-jan-2022.pdf
For additional information on having a training certified please contact the Regional Mobile Training Team Unit where the training is to be held.
---
Annual Firearms Qualification and Use of Force Training
Posted 10/17/2016
      Part of any law enforcement officer's Annual Firearms Training is a review of the agency's Use of Force policy as well as training on use of force guidelines and statutes. For the past few years, the Board has provided a Use of Force brochure which can be found on our website as a PDF form – printable by the agency.  Just recently, the Board has added an on-line Use of Force training for those agencies utilizing LEDI.
      All Law Enforcement Agencies (LEAs) are required to document the Annual Firearms and Use of Force training on their personnel roster either in its paper form or via LEDI. Should an agency wish to access the on-line Use of Force training, the agency MUST be enrolled in LEDI.   If you'd like to enroll in LEDI, please click here or contact your Board-assigned Field Rep.
---
Information on Private Auxiliary/Reserve Police Organizations
Posted 9/29/2016
The Illinois Law Enforcement Training and Standards Board, in cooperation with the U.S. Marshals Service, Northern District of Illinois, U.S. Department of Justice, and the Illinois State Police, is conducting an investigation into non-governmental, legally unrecognized, and unauthorized "auxiliary/reserve police organizations" offering "police assistance, services, and employees" to county and local police agencies. Certain illicit organizations have been successful in convincing law enforcement agencies that they are legitimate. These organizations have also attempted to create an appearance of authority through financial records and other "legal" documents to avoid constitutional requirements establishing real law enforcement authority for the use of police powers. Since this Board is responsible for the certification of all law enforcement personnel in the State of Illinois, we wanted you to be aware of this situation in order to avoid jeopardizing the safety and security of your community.

Please see the following for more information:
Letter from Director Kevin T. McClain
Opinion of Lisa Madigan, Attorney General
---
Attention Veterans Interested In Illinois Law Enforcement
Posted 7/1/2016
The Illinois Law Enforcement Training and Standards Board (ILETSB) Intern Program is perfect for Veterans seeking a career in law enforcement. 
This program has been developed in response to law enforcement administrators seeking a pool of trained and certified candidates available for service. It is ideal for veterans seeking a career in law enforcement. Successful Intern applicants attend a basic law enforcement training academy and, upon passing the State Certification examination, will receive ILETSB State Certification. Interns are integrated into classes with sworn officers and receive the same training. The Intern application process is currently available at Southwestern Illinois Police Academy. This program is for Illinois residents only and seats are limited. Applicants must have valid Illinois driver's license and Illinois Firearms Owner Identification card.  
a)       Tuition covered by Illinois Veteran's Grant and GI Bill for qualified applicants. In some cases housing and other costs can be covered too.
b)       90-95% of Interns (1/3 are Veterans), have been hired as part-time or full-time peace officers. 
c)       Receive college credit that may be applied to Southwestern Illinois College's Administration of Justice AAS Degree. 
d)       Police Agencies grant Veteran's and Education Preference Points in accordance with 65 ILCS 5/ Article 10-1-16.
Click here for more information and how to apply for the ILETSB Intern Training Program.
---
ILETSB Investigators
Posted 6/28/2016
Pursuant to the Illinois Police Training Act (50 ILCS 705/6.1), the Illinois Law Enforcement Training and Standards Board is authorized to appoint Investigators to enforce the responsibilities conferred upon the Board by law or rule. These investigators are certified law enforcement officers possessing the authority of peace officers and have all the same powers possessed by municipal and county officers.
The Board's Field Representatives are all appointed as Investigators as are other Board staff members to include both the Deputy Director and Executive Director. All investigators possess law enforcement credentials.
Field Representatives work with agencies to provide assistance on many issues and are the "eyes and ears" of the Board. As Board investigators, they work to ensure that all law enforcement agencies under the authority of the Board are in compliance with all Board requirements such as background investigations, mandated basic and in-service training, and mandated reporting. Board Investigators work closely with federal, state, and local law enforcement investigators to conduct possible criminal investigations.
---
Professional Conduct Database
Posted 6/28/2016
Pursuant to 50  ILCS 705/6.2, all law enforcement agencies shall notify the Illinois Law Enforcement Training and Standards Board (aka the Board) within 30 days of any final determination of willful violation of department or agency policy, official misconduct, or violation of law when:
(1) the officer is discharged or dismissed as a result of the violation; or
(2) the officer resigns during the course of an investigation and after the officer  
has been served noticed that he or she is under investigation that is based on the commission of a Class 2 or greater felony.  This includes violations of Illinois statutes or statutes of other state or federal agencies when the elements of the offense are substantially similar to an Illinois criminal offense which is a Class 2 or greater felony.
To facilitate the reporting, the Board has developed several documents which can be found in the FORMS section of our website and also on LEDI.
Please email completed forms, and supporting materials if required, to PTB.Certification@illinois.gov.
---
County Probation Officers Mandatory Firearms Training
Posted 4/5/2016
The Board will be providing the 40-hour Mandatory Firearms Training to approved County Probation Officers per P.A. 098-0725. In order to be approved for such training, the Chief Judge of the Judicial Circuit must designate each officer to be authorized to carry a firearms and eligible to attend the MFT. A letter outlining the procedure to follow can be found HERE.
---
Animal Abuse and Cruelty; Canine Behavior and Officer Response Training Standards
Posted 12/12/2013
On December 12th, 2013, pursuant to the requirement of P.A. 098-0311, the Board has approved the training standards for Animal Abuse and Cruelty; Canine Behavior and Officer Response courses. The standard will be shared with Basic Law Enforcement academies and MTUs. Click HERE to obtain the standards.
---